Our space will be closed in July & August. Only a few classes will be teached: they will appear on our Mindbody planning. Have a nice summer!
All classes teached by Sam Guelimi, our founder, are limited to 6 persons. Each session ends with a latté or a tea.
The doorcode is 631A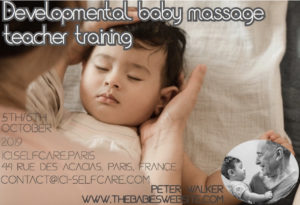 Intensive training with Peter Walker
October 5th & 6th 2019 at Ici Self-care.
Learn baby massage from birth to mobility.
Whether you are a mother-to-be or working with future moms, you are aware that these first days are fundamental. Discover the wonderful work of Peter Walker on his site and to reserve your place: walker@thebabieswebsite.com.
Planning